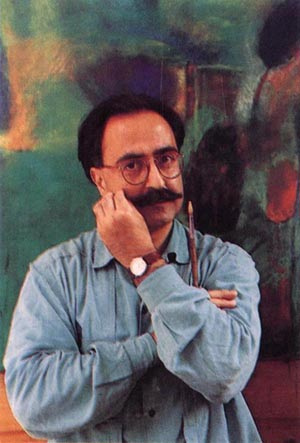 Photo by Elie Allouf – 1993
Abousleiman started his study in philosophy and fine art in 1973 at the Lebanese University in Beirut before moving to Paris in 1976 where he graduated from the Ecole Nationale Supérieure des Beaux Arts in 1983.
During his stay in Paris, he studied art history as well at the Sorbonne (Cum Laude) and moved in 1983 to Amsterdam to carry on with his higher studies where he graduated at the University of Amsterdam in 1985.
Since then, he is living in Amsterdam and works as Painter and Writer.
Solo Exhibitions (Selection)
2017 Aurora Art Gallery, Zuid-Scharwoude
2016 UNESCO Palace of Culture, Beirut
2011 Diversity & Art Gallery, Amsterdam
2010 ADP Gallery, Amsterdam
2009 Majdalouna Art, Amsterdam
2008 Majdalouna Art, Amsterdam
2007 Majdalouna Art, Amsterdam
2007 Gallery Buuf, Amsterdam
2006 ABC Treehouse Gallery, Amsterdam
2005 Grote Kerk, Oosthuizen
2002 The Arab-British C.o.C., London
2000 Grosvenor House, London
2000 Gallery Fibeiti, Amsterdam
1999 Agial Art Gallery, Beirut
1998 Consulate of Lebanon, Antwerp
1997 Gallery Fibeiti, Amsterdam
1994 Gallery Station des Arts, Beirut
1994 Gallery Alia, Amman
1993 Posthoornkerk, Amsterdam
1990 De Muzerije, Den Bosch
1990 Fourth Floor Gallery, Amsterdam
1989 AE Gallery, Gothenburg, Sweden
1989 Fourth Floor Gallery, Amsterdam

1986 Tropenmuseum, Amsterdam

1985 Maison Descartes, Amsterdam
Group Exhibitions (Selection)
2007 Salon "Numéro Un", Studio B52, Amsterdam
2005 The Oude Kerk, Amsterdam
2004 "Divine", ABC Treehouse Gallery, Amsterdam
2004 Vredenburg Music Center, Utrecht
2004 Arti et Amicitiae, Amsterdam
2003 Wereldmuseum, Rotterdam
2002 "Poetry of Time", ABC Treehouse Gallery, Amsterdam
2002 "New Dutch Golden Age", United Arab Emirate
2000 "Three Generations Lebanese Artists", Amman
1998 Center Cult. the Woluwe St. Lambert, Brussels
1993 Beurs van Berlage, Amsterdam
1991 De Muzerije, Den Bosch
1989 Ethnographic Museum, Groningen
1988 Museum of Ethnology, Rotterdam
1982 Ecole Nat. Sup. des Beaux Arts, Paris
1975 Glass Hall, Beirut
Scholarships
1977 Premier prix de fin d'étude en peinture, Lebanese University, Beirut
(Three-years foreign studies – Scholarship)
Education
1983-1985 University of Amsterdam, Art History
1977-1983 Ecole Nationale Supérieure des Beaux Arts, Paris, Fine Art
1977-1981 Sorbonne, Paris, Art History (Summa Cum Laude)
1973-1976 Lebanese University, Beirut, Fine Art (Summa Cum Laude)
1973-1974 Lebanese University, Beirut, Philosophy